Happy Monday friends! I just got back from Yallfest last night and it was such a fantastic weekend! I'll be sharing a recap of the weekend tomorrow.  But after this weekend I'm more excited to be sharing this review. This weekend I met a bunch a girls who all had Wicked Saints ARCs and I couldn't help but fangirl over it with them. So this review is dedicated to my 5 new friends who let me  rave about this book while standing in line for an hour.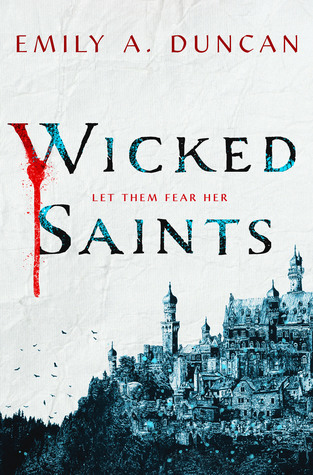 Title: Wicked Saints (Something Dark and Holy #1)
Author: Emily A. Duncan
Ratings: ★★★★★
Release Date: April 2,2019
Preorder here:  Amazon    Barnes and Noble      Book Depository
ARC provided by the publisher via Netgalley in exchange for an honest review. 
Something Dark and Holy, indeed. My friends, I hope you're ready for April because Wicked Saints is ready to sweep you away. Are you ready to enter this dark, new world? Reminiscent of The Grisha Trilogy and Joan of Arc, Wicked Saints takes the reader on a journey where right and wrong aren't always black and white.

Trigger Warnings: Self Harm and Abuse are very much a part of the entire novel. The author has been very vocal about this but please stay safe everyone. You can read her review and explanation here.

"Intentions were not always kind nor just."
Most clerics hear the voice of one god to grant them a particular power. Nadezhda Lapteva hears the whole pantheon of gods and they each give power as well as a divine calling. Nadya grew up understanding she was the last cleric and her will was the gods' will. Her country is at war with the neighboring country, a country her religion calls "heretics". People who have shunned the gods and practice their own form of magic, blood mages.
When Serefin, the high prince and a dangerous blood mage, attacks her monastery, Nadya is forced to flee her home to fulfill her divine calling. While on the run from the enemy, she finds a group of so-called rebels. These people have decided not to choose a side but would still like for the war to be over. Their leader, Malachiaz, convinces Nadya to go against the god's wishes and infiltrate the enemy from within the palace. This begins Nadya's journey into enemy territory while not know who she can trust.
The magic system was one of the best things I've ever read. This is a big part of the plot and it was so cool to see. Clerics vs. the Blood Mages; two sides of the same coin. Both sides of the war believed they were right and the other side were the heretics. I definitely questioned both sides multiple times. (I was raised Catholic and I know who Joan of Arc is as well as the idea of a holy war. So for me, I think it added a lot to the plot.)
This story is told in dual POV. While I enjoyed Serefin's character development I am more excited to see where he will be in the next book. They left it so open-ended, I think he's going to be a huge part of this overall story. Nadya is my girl. Her character development was amazingly on point. Who she was at the beginning is not how she ended up by the ending.
"We're all monsters, Nadya." Malachiasz said, his voice gaining a few tangled chords of chaos. "Some of us just hide it better than others."
The ROMANCE!!!!! The perfect ship. The optimist vs. pragmatist. Light vs. Darkness. I can't help but think of Alina/The Darkling from Grisha and Damon/Elena from TVD. Morozko from The Winterwitch Trilogy.
Duncan's writing gives off the best medieval vibes. Nadya has strong characteristics to Joan of Arc and other medieval martyrs. The story was so intriguing to read. Betrayal and the blurred line between faith and heresy makes Wicked Saints a perfect story for fans of Grey areas. Raw imaginary make this an extremely easy and fast read. This is a one of a kind story that takes the reader on a journey through medieval cathedrals and ruins of a war-torn country.
I think I lot of people will fall in love with Wicked Saints come April. I quick-paced book sure to thrill any fan of dark fantasy YA. Be sure to keep Wicked Saints in your sights in April 2019!

The quotes above were taken from an ARC and are subject to change upon publication.